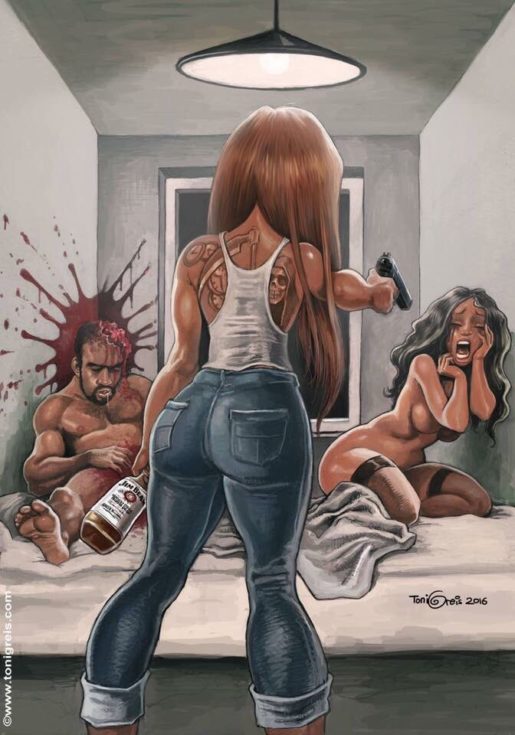 How'd it come to this,
My girl came home early,
On some surprising shit,
I met this woman about a week
Ago, told me she was having
Problems with her man, &
How bad she needed some
Dick though,
I said listen I got a girl!
She ain't care though,
She like I got man, so let's
Keep it on the low,
I'm like ight bet, but in my mind,
Karma's a bitch 
So,
I invited her over,
We chilling, she get the feeling,
All over me, unzipped my pants
And started stroking me.
I'm liking it, all I'm thinking
About is hitting it, striking it,
It's hot in here, you know match
Lit, on some nelly shit, she said
Pull ya pants down and started
Sucking it, I mean sucking it,
Tongue all over it, spit all over it.
Next thing you know, I'm in the
Bedroom wit it, stroking her
Real good, whirlwind, I'm a
Typhoon it in, she groaning,
She moaning, next thing you know,
My girl bust in the room & wobbling!
Oh shit!
I'm like hold up, I can explain
This shit, gun in her hand,
Jim beam on her breathe,
From taking it to
The neck, in the kitchen,
She was plotting,
She was on a mission,
I just knew I was the one to blame,
In the back of my mind I'm like
This shit going be hard to tame.
Next thing you know,
Boom!
A shot let off, she hit me
On the left side of my brain,
Pointed the gun at shawty,
She was petrified, that's what I
Get for taking my girl to
The gun range, moral of the
Story fellas don't wind up
In the oven & get baked,
Look at me slumped on the bed
For making pussy, a mistake!
Written By Kingbty
Likes

(

9

)
Dislikes

(

0

)