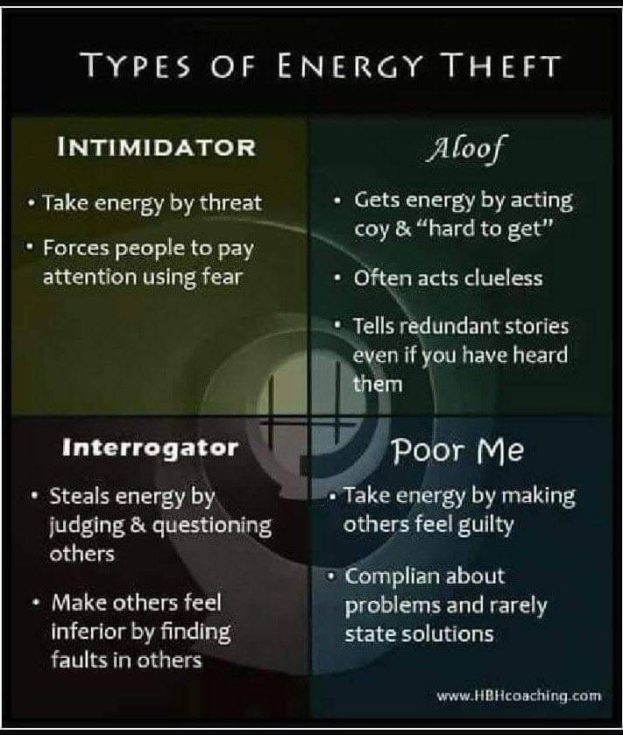 Pay close attention! You need to know who's stealing your energy and how. Be aware of the people you interact with on a everyday base, people steal your energy in a multiple of ways. Some people are conscious of what they are doing, others are unaware. Aura meditation and psychic shielding are great ways to protect your self, from physic vampires. 
Always be conscious of how you feel when you interact with indivuals. If you always feel down, depressed, tired, or sleepy after talking to certain people, this is a good sign that person is a physic vampire. I have people in my life who are always are negative, they never have anything good to say about people. They love to gossip and swear everybody is out to get them. This is a physic vampire.
I have also had people in my life who are always depress, life is so miserable, they always feel miserable, they are always complaining that life is not fair. They are always crying and complaining. They never have anything positive to say. These type of people are also physic vampires, because after talking to them you always feel worse, depressed, and drained. These people can be your friends, family, or mate. When dealing with psychic vampires, either one of two things are happening. They are draining you of your energy or transferring negative energy to you, so be aware, be cautious and be prepared. 
~Unknown
Likes

(

7

)
Dislikes

(

0

)